Jin Song e inventor di e sistema electronico Truescore ta bay bin for di San Jose California, 
specialmente 
pa usa e headgear electronico di Generation 
3 na Aruba pa prome
biaha den Best of the Best Truescore 2023 Aruba.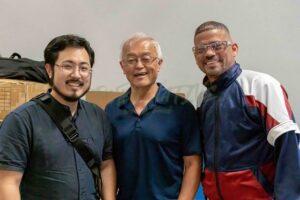 Jin Song a lansa e head gear electronico pa prome biaha na mundo den Best of the Best 
na aña 2010. Ex campeon Mundial y Coach Olimpico Master Henk Meijer a biaha for di 
Hulanda pa ta 
testigo di e sistema electronico. 
For di aña 2010 Aruba
tabata den noticia mundialmente pa e sistema electronico cu a wordo lansa na Aruba den
Best of the Best pa prome biaha.
E aña aki Jin Song ta bay ta na Aruba pa mundo henter por mira via livestream 
e headgear di e ultimo generacion den Best of the Best Truescore 2023 Aruba. Aruba su 
atletanan ta bay ta e prome atletanan pa bringa cu e headgear electronico Generation 3.
Brazil Taekwondo Stichting